Walnut Valley Puppies Policies

Dear Customers, 
Please note!
A puppy is not reserved until a deposit is made for it. Please read our policies below. If you feel that our puppy would be a good fit for you, head over to our Wait-list Page to start the process.
Our Customers Care:
We at Walnut Valley Puppies do not "prescreen" our customers, although we do expect them to provide great homes for our puppies. We have sold puppies to many wonderful people across the country and have the assurance they went to good homes.
If you feel you have done your homework on the cost associated with a new dog, the care and attention needed to develop him/her into adulthood and beyond, and have adequate living space, we welcome you to reserve one of our puppies.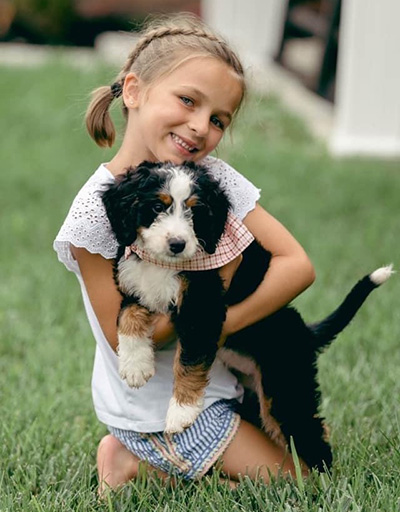 Guarantee and Health Warranty:
We want every puppy to go home happy and healthy. But as it is with us humans, things can go wrong in the puppy world. To ensure that all is well in its new environment, we ask that if possible you get your puppy checked by a vet within 72 hours of going home. Any normal costs incurred are the responsibility of the buyer. If there would happen to be any problems, we would need a copy of the veterinarian's invoice to reimburse you for the cost of treatment. (That amount not exceeding the cost of the dog.)
Please note that puppies may pick up common parasites, such as giardia, coccidia, roundworm, etc. We do everything in our power to prevent and eliminate these parasites by putting dogs and pups on a strict deworming program. However, mother dogs tend to be more vulnerable to parasites when they have puppies, and may pass parasites along to the pups. Depending on the life cycle of the particular parasite, it is possible that a few pups will go home with one. We ask that you have your puppy checked by a vet within 72 hours of taking them home. In this checkup please make sure the vet checks for parasites. If for any reason your puppy does not check through clear and needs some sort of treatment or medication, we will reimburse you 100% for that cost.
We also offer a 2-year Genetic Health Guarantee on our puppies. There are many things that can affect the long-term health of a dog including genetics. While genetic health is an issue of concern, an equal or greater factor is diet and exercise. In this sense, we are taking a risk by giving a 2-year guarantee because we do not know how well the puppies will be taken care of. We choose to trust that they will be received into good homes. Click here to see our Purchase Agreement & Health Guarantee contract.
Pickup and Delivery:
Local pickup is preferred, but we do sell a lot of puppies that need to be transported. If you can't pick up locally, we have several ground shipping options available. We can (in most situations) deliver directly to your home for $1.50 per mile. We would be happy to discuss the options with you and help you decide what option is the best for you. Any puppies picked up in Illinois are subject to 6.25% state sales tax. Puppies that are flown or are picked up/delivered outside of Illinois are not taxed.
Flying Puppies
Our Flight nanny personally carries your puppy from the Indianapolis, IN airport to the closest major airport near you. The price is $375 (this includes the $125 pet fee) plus the price of the airline ticket and the nanny carries the puppy with her in a breathable, soft travel carrier in cabin with her, the whole time. The puppy has treats, a chance to go the bathroom along the way and lots of love and snuggles from her as they travel.
Airport Pickup
If you want to fly the puppy yourself we can meet you at the Indianapolis Airport for $175 within business hours. You will then be responsible to purchase your own airline tickets.
Sales tax and Processing fees:
We are required to charge 6.25% sales tax on all puppies picked up here in Illinois. Puppies that are flown or are pick up/delivered outside of Illinois are not taxed. Balance payments can be made with Bank Transfer, Cash, Check, or PayPal/Credit Card. Balance payments that are paid with PayPal or Credit Card will be subject to a 3% processing fee. (We personally pay the fee on all initial deposits made with credit card or PayPal.)
Refunds:
If perchance something would happen to your puppy while you have a deposit on it, we would let you pick another puppy, use it for a future litter, or simply have the deposit refunded. If, however, you would default and not want the puppy after all, your deposit would then be used to help locate a new home for him/her. We want to be reasonable and would make allowances or give a refund for circumstances outside your control.
Our Prices
Pricing for Bernedoodles:
Bernedoodles come in a variety of colors and therefore have different prices.
Our F1 Mini Bernedoodles have a set price not based on color.
$4450.00 - F1 Mini Bernedoodles
Our F1 Standard and F1B Mini & Tiny Bernedoodles prices vary based on the colors listed below.
$3950.00 - Tri-colored
$3950.00 - Phantom (Black-and-tan)
$3950.00 - Blue Merle
$3750.00 - Tri-colored Parti
$3750.00 - Blue Merle Parti
$3450.00 - Black-and-white
There is a $1500 additional charge for breeding rights for your puppy!
*In the case of a price change, we will honor the price specified at the time of your deposit.*
Advance Deposits:
If you want to be put on our wait list, we encourage you to read the Wait List Details and make the deposit from there. We will confirm your deposit and where you are on the list. Once it's your turn to pick, you can choose an available puppy OR decide to skip your turn for that litter and wait for a subsequent litter, at which time you would likely have a higher pick.
Any deposits made for future litters or puppies that are born but are under 5 weeks old will be 50% REFUNDABLE until a puppy is picked out. After a puppy is picked out, the deposit is NON-REFUNDABLE.