Welcome to Walnut Valley Puppies!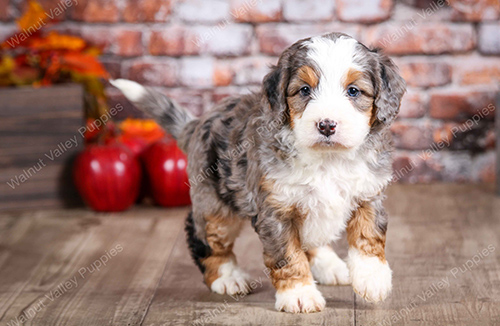 Everyone wants the perfect puppy.  You are looking for the puppy you can love, and the one who will love you back with unconditional puppy love.  We understand and will help you find the puppy that is just right for you and your family!
Our family raises adorable Tiny, Mini, and Standard Bernedoodle puppies.  We provide our puppies with loving care from day #1 and ensure the puppies stay healthy, allowing us to present you with a happy, active puppy dog pal.  We are best at producing Tri-colored Mini and Standard Bernedoodles and our puppies make great companions and playmates. 
Browse our website to see photos of Bernedoodle puppies for sale. We also picture many of the puppies who have found their forever homes.  Learn about our family, our puppies and their parents, and how you can become the proud owner of a new puppy!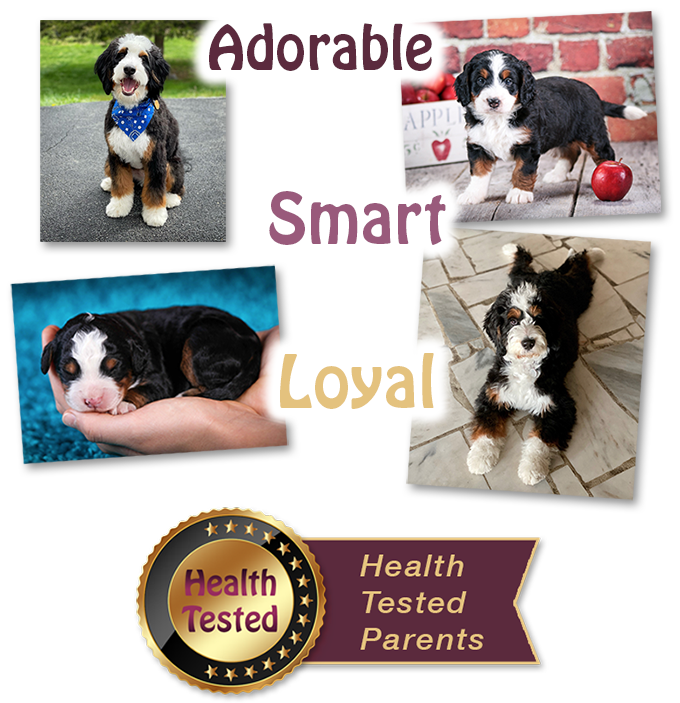 Our puppies go to their forever home with the following:
Prepaid ICA Registration
Health certificate from our vet
Up to date on vaccinations
Up to date on dewormers
Micro chipped
Vet checked
2 year genetic health guarantee
Dew claws removed
Blanket with siblings scent
Collar and leash
Puppy food starter pack
Several toys
And more!
.
Why Walnut Valley Puppies?
1. Satisfaction Guaranteed.

You deserve the best, and you can expect an over-the-top experience when working with us. You and your puppy will be cared for, and you will receive exceptional service. We are passionate about relationships and your satisfaction.

2. Health Tested Parents / Healthy, Happy Puppies

Looking for a hearty, thriving puppy? Our goal is to place healthy puppies in your arms. We accomplish this with health tested parents, a clean, sanitized environment, precise vaccination and deworming program, and a thorough nose to tail check by our experienced vet. Every puppy is guaranteed to go home healthy, and is additionally covered by our 2-year Genetic Health Guarantee.

3. Lifetime Support

Your new family member will most definitely bring joy, warmth, and fun. We enjoy your pictures and stories and welcome continued interaction with you! In the case of any interesting challenges, we are here to help you find solutions as needed.